Have you ever felt like you were snoozing on a cloud while staying in a hotel? If so, then you are familiar with the sensation of sinking into a bed with soft, crisp, and luxurious hotel linen. Because of its high-quality materials and durability, hotel linen is a popular choice among both hotels and homeowners. Fortunately, it is easier than you might imagine to achieve the same level of comfort in your own home. The secret lies in the quality of linens, once you find the sellers that provide hotel-quality linens, you can always have a small get away at home with the same level of comfort and quality.
This article will discuss the advantages of hotel linen, how to choose the appropriate materials, and how to care for them so that you can enjoy the comfort of hotel linen at home.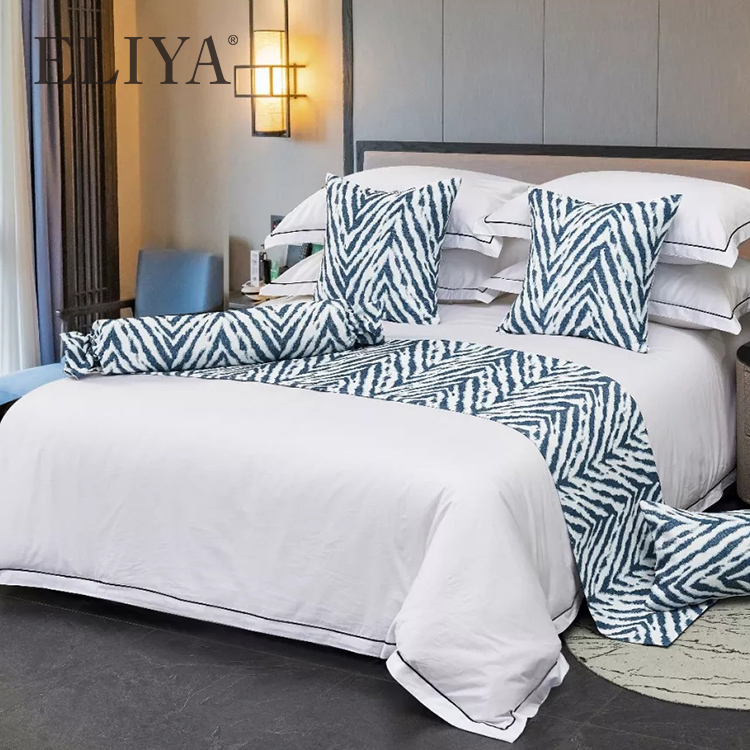 Advantages of Hotel Linen
The purpose of hotel linens is to provide visitors with the utmost comfort and luxury. It is composed of plush, durable, and long-lasting materials of superior quality. Additionally, hotel linens are designed to be simple to maintain so that they can withstand frequent laundering and daily use without losing their quality or coziness. Here are some of the advantages of hotel bedding that make it an excellent choice for the home:
Comfort
Hotel bedding is renowned for its luxurious texture and comfort. The linens are soft and silky to the touch, which facilitates a restful night's sleep.
Durable
Hotel linens are constructed to withstand frequent laundering and daily use. The use of high-quality materials in hotel linens ensures that they will last for many years.
Natural Fibers
The hotel's linens are made from natural fibers such as cotton, linen, or bamboo, making them breathable and allowing for appropriate air circulation. This aids in temperature regulation and prevents overheating.
Range of Designs
Hotel linen is typically available in a variety of designs and colors to complement any interior design. This makes it easy to locate sheets that complement your bedroom decor.
Selecting Appropriate Materials
There are a variety of options when it comes to selecting the appropriate materials for hotel linen. Each material has characteristics that make it suitable for a variety of preferences and requirements. Here are some of the most frequently used materials for hotel linens:
● Cotton is the most commonly used fabric for hospitality linens. It is plush, resilient, and breathable, making it an ideal material for bedding. Each variety of cotton, such as Egyptian cotton, Pima cotton, and Supima cotton, possesses a distinct level of quality.
● Linen is another common material found in hotel bedding. It is well-known for its natural consistency and ability to regulate body temperature. Additionally, linen is highly durable and simple to care for.
● Bamboo is a sustainable and eco-friendly material that is gaining popularity in the furnishing industry. It is delicate, breathable, and hypoallergenic, making it an excellent option for individuals with sensitive skin or allergies.
● Microfiber is a synthetic material that is known for its affordability and suppleness. It is frequently used in economical hotel linen and is a good option for those on a budget.
Caring for Hotel Linens
To maintain the comfort and luxury of your hotel linen at home, it is essential to care for it properly. Here are some guidelines for caring for hotel linen:
● Always launder your hotel-style linen in cold water on a delicate cycle. Utilize a gentle detergent and avoid bleach and fabric softeners, which can harm the fibers.
● Line drying is the most effective method for hotel-style linens. If you must use a dryer, set the temperature to low and remove the bedding while it is still barely damp to avoid overdrying.
● Hotel-style bedding does not require ironing, but if you prefer the appearance of crisp, ironed sheets, use a low heat setting and iron the sheets while they are still damp.
● Place your hotel-style bedding in a cool, dry location to prevent mildew and moisture buildup. Avoid storing in plastic bags or containers, as this can lead to fungal growth by trapping moisture.
● Inspect your hotel linen bedding for signs of wear and strain on a regular basis. Replace any damaged or worn-out parts to maintain the comfort and durability of your bedding.
Bottom Line
Obtaining the comfort of hotel bedding at home is simple with the proper materials and care. You can create the same degree of comfort in your own home by selecting high-quality materials and caring for them properly. Hotel linens are designed to provide guests with the utmost in luxury and comfort.
Whether you prefer cotton, linen, bamboo, or microfiber, you can find hotel-style bedding that suits your preferences and requirements. Your hotel-style linens can provide you with years of comfortable and restful sleep with proper care and maintenance.
Where To Find Hotel Linen?
Eliya Linen is a prominent provider of luxury hotel linen that allows you to experience the comfort of hotel linen in your own home. Our hotel-style bedding sets are crafted from premium materials, such as 100 percent cotton, bamboo, and linen, and is designed to provide the highest level of comfort and durability. We provide a vast assortment of bedding options, including sheets, duvets, and pillowcases, all available in a variety of designs and colors to complement any interior design.
At Eliya Linen, we recognize the significance of quality and comfort in bedding. To ensure that our products adhere to the highest standards, we use only premium materials and implement stringent quality control procedures. Our bedding is also simple to maintain, allowing you to experience the comfort of hotel linens at home without the hassle of laborious upkeep.
Eliya Linen brings the comfort of hotel bedding to your residence. Explore our selection of luxury hotel-style linens on our website today and get yourself the next favorite linens for your home.
Some Best Sellers From Eliya hotel linen supplier
Blue Bedding Set with White Piping
Hotel Bedding Set Honey Comb Embroidery Duvet Cover Pillow Case Custom