There is more to a hotel room than just a place to slumber. It is an escape from the monotony of daily life, a transient haven from stress. That is the reason that hotels must pay close attention to every detail to ensure that their guests have the best experience feasible. This can be achieved by investing in high-quality hotel bed linens.The quality of the hotel bed linen is one of the most essential elements in creating a luxurious experience. Luxurious, high-quality bed linen can entirely transform a room, making it feel more inviting, comfortable, and relaxing.
The first thing people note when people check into a hotel is the bed. A well-made, comfortable bed can make all the difference. Guests expect to find freshly laundered hotel bed linens, soft pillows, and a cozy comforter. When they get into bed at night, they want to feel as if they're floating on a cloud and sleeping on soft linens. By upgrading your hotel's bed linens, you can not only meet your visitors' expectations, but exceed them.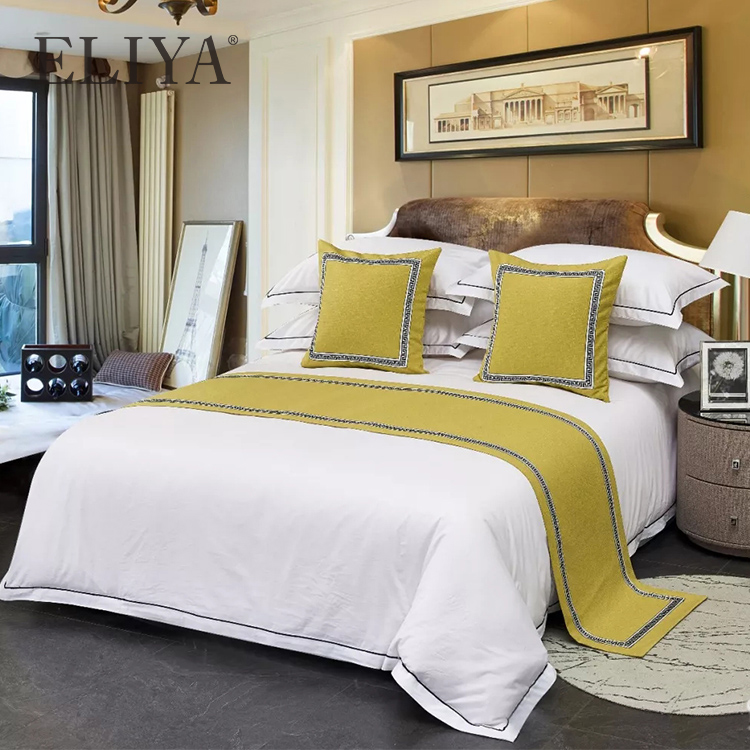 Why Invest in Luxurious Bedding?
Luxury hotel bed linen goes beyond mere aesthetics. It is about comfort, durability, and the visitor experience as a whole. The advantages of upgrading to opulent bed linen extend far beyond merely improving the aesthetics of the room. Here are some reasons why your hotel may want to upgrade to luxurious bed linen:
Better Sleep Quality
The quality of the bed linen has a significant impact on the sleep quality of visitors. Luxurious bed linens are manufactured from soft, breathable, and comfortable materials of the highest quality. This can assist visitors in getting a good night's sleep and waking up refreshed and revitalized.
Increased Guest Contentment
The contentment of guests is the foundation of the hotel industry. They are more likely to return and recommend your hotel to others if they are satisfied. The use of opulent bed linens can help create a memorable experience for visitors, resulting in increased satisfaction and loyalty.
Better Durability
Luxurious bed linens are crafted from durable, high-quality materials. They are more resistant to wear and strain, fading, and shrinkage than alternatives that are less expensive. In the long run, your hotel will save money by not having to replace the linens as frequently.
Competitive Advantage
In today's competitive market, hotels must discover ways to distinguish themselves from the competition. Luxurious bed linen can give your hotel a competitive advantage by providing guests with an unforgettable experience. This can aid in attracting new consumers and retaining existing ones.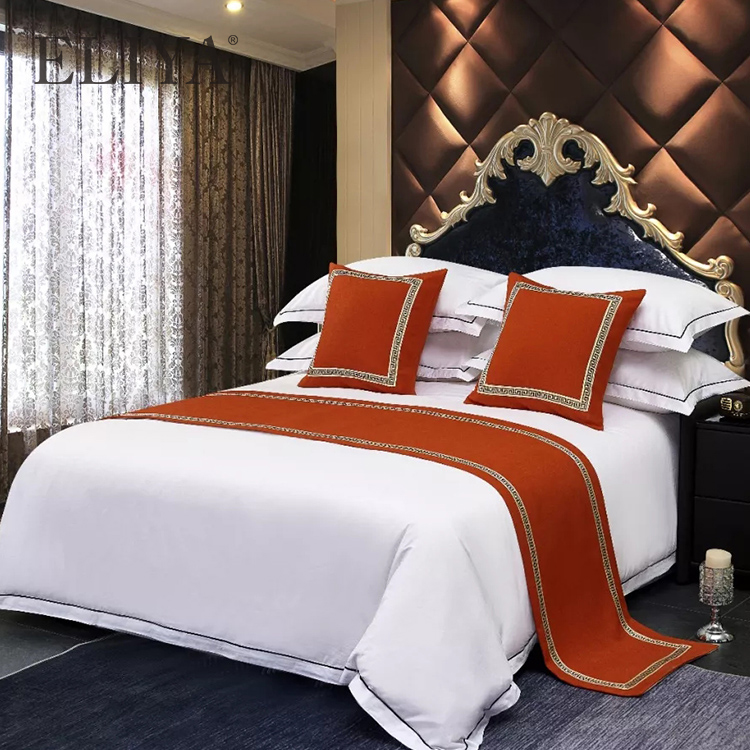 What to Search for in Hotel Bed Linen
Not all sheets are created equal. When upgrading your hotel's bed linens, it is essential to select materials that are both durable and comfortable. Here are a few items to watch out for:
Thread Density
The thread count of a fabric is the number of threads woven into one square inch. In general, the higher the thread count, the plusher and more opulent the linen will be. However, thread count is not the only consideration, and a higher thread count does not necessarily indicate a higher quality product.
Material
Material is also an important consideration when choosing hotel bed linen. Cotton is a popular option for bed linens due to its softness, breathability, and durability. Egyptian cotton is regarded as the highest quality cotton, but Pima cotton and Supima cotton are also excellent options. Silk, linen, and bamboo are additional materials to consider. At Eliya bed linen collections, you can choose from a wide range of linens to match the comfort and expectations of your guests.
Weave
How a fabric is woven affects its durability and texture. Sateen weave, for instance, is silky and smooth, whereas percale weave is crisper and more permeable. As it creates a textured, upscale appearance, jacquard is a popular choice for luxury bed linen.
Color and Design
The bed linen's color and pattern can also effect its overall appearance. White, ivory, and beige are timeless and versatile, whereas bolder colors and patterns can lend personality and style to a space. It is essential to choose colors and patterns that complement the room's overall design and create a unified appearance.
Care Instructions for Luxurious Bed Linen
Purchasing good hotel bed linen is only the beginning. To keep it looking and feeling its best, it is essential to maintain appropriate care. Here are some strategies for maintaining the luxurious bed linens in your hotel:
Each set of bed linen will include care instructions that must be adhered to precisely. This may involve laundering at a specific temperature, employing a particular detergent, and avoiding bleach and fabric softener.
Wash Routinely
Regular laundering is necessary to maintain the purity and freshness of bed linens. Depending on the occupancy rate of the hotel, it may need to be cleaned daily or every few days. To prevent fabric injury, it is essential to use a gentle cycle and avoid overloading the washing machine.
Store Correctly
When not in use, bed linens should be stored in a cool, dry location to prevent injury from excess moisture. It is essential to protect linen from direct sunlight and avoid folding it too tightly in order to prevent creases.
Replace When Required
Even the finest quality bed linen must be replaced eventually. Indicators that it is time to replace bed linen include visible wear and tear, unremovable discoloration, and a decline in comfort and quality.
Final Thoughts
Upgrading your hotel's bed linens to a deluxe, high-quality option can have a significant impact on the overall guest experience. It can help generate an atmosphere that guests will remember long after they have checked out. By selecting the appropriate materials, adhering to care instructions, and replacing linens as needed, hotels can maintain a luxurious and welcoming atmosphere in guest rooms. Investing in luxurious hotel bed linen from Eliya linen can be a wise way to distinguish your hotel in a highly competitive market and keep guests coming back.