Unlike many Chinese holidays, the date of Labor Day is based on the Gregorian calendar rather than the lunar calendar. Labor Day is a public holiday. For the general population, this is a day off, schools and most businesses are closed for rest.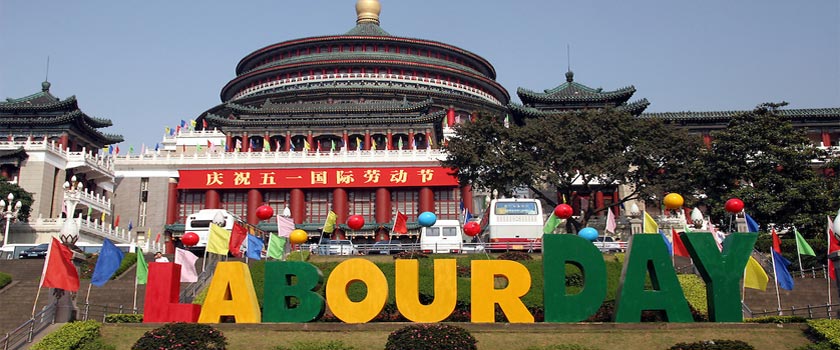 During Labour Day, travel volume is high and dense crowds can be expected. China's prime tourist scenerty are frequently visited by both Chinese and foreigners. During the Labor Day holiday, Chinese people can enjoy various activities in urban and rural areas. Due to the warm weather in most parts of China in May, many people choose to go outings in natural areas. There are many street performances and threates and events occured during this holiday.
During Labour Day holiday, many shops, famous scenery will offer major discounts to stimulate the economy across the country. Even the government will publish some policies such as free charge for highway etc. This has caused tourism and shopping to be a favorite Labour Day activity in China. Most of the hotels and restaurant will buy and update the guest room linen or table linens to upgrade the good experience of service. While there are no special foods or cultural customs on Labour Day, there are plenty of activities offered by businesses. Many new hotels and restaurant will catch up with this good opportunity to do some promotion and gain more customers.

With the vaccine published and the virus issue became stable, there will be not only a brust for chinese tourist to travel abroad, and also a repid incerase for the tourism and hospitality supplying across the world.
For ELIYA hotel linen suppliers, we now also gained more orders in the recent months as some order from India is rushing into China, we have planed a schedule for production during the Labour Day holiday for orders from different area such as America, Southeast Asia, Africa, Europe etc. we hope to spread our products and offer some help to the recevering for all the hotels in the world!
ELIYA, dedicated to the best hotel linen!